Roadmap - going beyond buzzwords
Each quarter SALESmanago is equipped with at least 2-3 new big features and hundreds of innovations to existing solutions that help our customers outpace their competition. Thanks to our proprietary cutting edge technological framework, the time to market is unattainable by other vendors.
Changelog
06.2021
Notification Center
New feature
Boost user stickiness with a brand new, 3-in-1 communication channel - Notification Center. Improve user engagement and increase conversion rates with fully customizable, easy to use, intuitive, 3-in-1 communication channel that combines eCommerce wishlist (products likes), recommendation engine and notification center.
06.2021
Web Push Notifications 2.0
New feature
Engage customers with Web Push Notifications 2.0: One to one, AI rich content, no code, multilanguage and fully CDP driven. New Web Push Notification module allows you to reach and engage both anonymous and identified customers by offering them bespoke content - including multi-language versions of notifications and consent forms - in one of the best consent-based communication channels, through personalized Web Push notifications.
04.2021
Marketing Insights
New feature
Marketing Insights is an AI-powered solution that analyzes SALESmanago user account in the area of customer data, transactions, behaviours and around the scope of the platform usage and is automatically generating tips and insights for direct actions to be taken by marketing teams.
04.2021
Customer Segmentation Center
New feature
AI, no-code Hyper Segmentation goes beyond traditional segmentation with real-time high propensity, churn customer identification and one click availability across all execution channels. New Customer Segmentation Center allows you to create, edit, manage and analyze all segments from one unified, user-friendly Center, and from all places in the system where contact selection takes place for example:
Email Marketing (individual campaigns, birthday emails etc.),
Web Push Notifications,
Mobile Marketing,
Contact Management,
Custom Audiences.
03.2021
Voice Commerce
New feature
New widget on website to simplify products searching in the online store using voice. It perfectly matches all queries thanks to the use of advanced NLP technology and sets of interrelated computational approaches that work together to home in on user intent.
02.2021
AI Visual Search
New feature
New mechanism that allows your customers (especially those using a mobile device) to upload a picture with a look they like and the AI Visual Search Engine will automatically display the products similar or fitting the desired look and feel. Automatically display products looking similar or fitting to the products the customer is browsing through on your online store.
12.2020
Automation Processes Dashboard
New feature
Automation Processes Dashboard allows you to measure sales generated with all communication channels used in your automated campaigns. Check what part of your total sales is coming from the automation. Analyze how the engagement created with each communication channel translates into sales from your automated campaigns and have easy access to the list of best performing automation processes and workflows and learn what results from each of them is generating. Improve the omnichannel communication process to boost conversion across the entire customer journey.
11.2020
Loyalty program
New feature
In SALESmanago, you can create a working loyalty program for the customers of your online store in just 5 minutes, using our unique and user-friendly wizard that will help you configure different membership levels without any additional coding or IT support. Engage and increase your customers' retention and LTV with highly customizable loyalty programs that seamlessly integrate with all CDP data and enable automated, multi-channel communication. Use data from a loyalty program in advanced, multi-channel automation processes. And if that's still not enough, each created program has its own analytical panel!
11.2020
Search Engine Turbocharger
New feature
Search Engine Turbocharger allows you to improve the search results of your online store, providing answers that perfectly match all queries, thanks to the use of advanced NLP technology and a set of interrelated computational techniques that, through mutual cooperation, allow you to adjust the results to the user's intentions. Enrich the returned results from searches with product recommendations based on AI mechanisms and evaluate the effectiveness of each presented result in order to optimize the mechanism's operation. Simplify the way you search for products with the unrivaled AI Voice Search module that is hassle-free and easy to implement.
10.2020
Command Center
New feature
Command Center is the new UI standard for managing KPI-oriented multi-channel, multi-functional and multi-tasking marketing processes. It gives a centralized view of all marketing processes and solutions aimed at achieving specific goals. Move from ad hoc activities and one-off, separated campaigns to creating comprehensive, achievement-oriented processes by using all available tools and communication channels. Use the advanced calendar to easily plan and supervise all your marketing activities.
10.2020
Dashboard CDP
New feature
The CDP dashboard is an analytical panel that enables an in-depth analysis of the contact database, segmentation, and conversion funnels. Use the data from the eCommerce funnel to view the current transactional activity of your contacts and assess their sales potential, monitor the progress of transferring leads between different stages in the sales funnels Thanks to the CDP Dashboard, you will compare how your contact base changes over time and analyze how you can improve the strategy of acquiring new potential customers.
10.2020
Integration with Google Ads and Adform
New feature
Integrate with Google Ads and Adform and use your customers' behavioral and transactional data stored in their 360º profiles to create and manage ad audiences in both these platforms. Carry out remarketing or win-back campaigns for individual customers who visited your website and met the conditions specified in Workflow and Automation Rules. You can now supplement your multi-channel communication strategy with additional channels, to deliver personalized offers at different stages of the customer lifecycle.
10.2020
Custom Modal Designer
New feature
This advanced wizard allows you to display pop-ups with special offers to selected groups of customers based on their behavior on the website and CDP data. Control where, when, to whom, and what offer is to be displayed. Get more potential customers thanks to attractive forms displayed at the right moment. Take advantage of the extensive customization options, such as creating pop-ups with the use of widgets, to create messages that perfectly match the appearance of the website, on both desktop and mobile devices.
09.2020
Conditional Content in Email
New feature
Conditional Content enables adjusting parts of your emails to perfectly fit the interest of diverse recipient groups of the same campaign. Simply define what user segments should get different offers and information and increase your email marketing's effectiveness.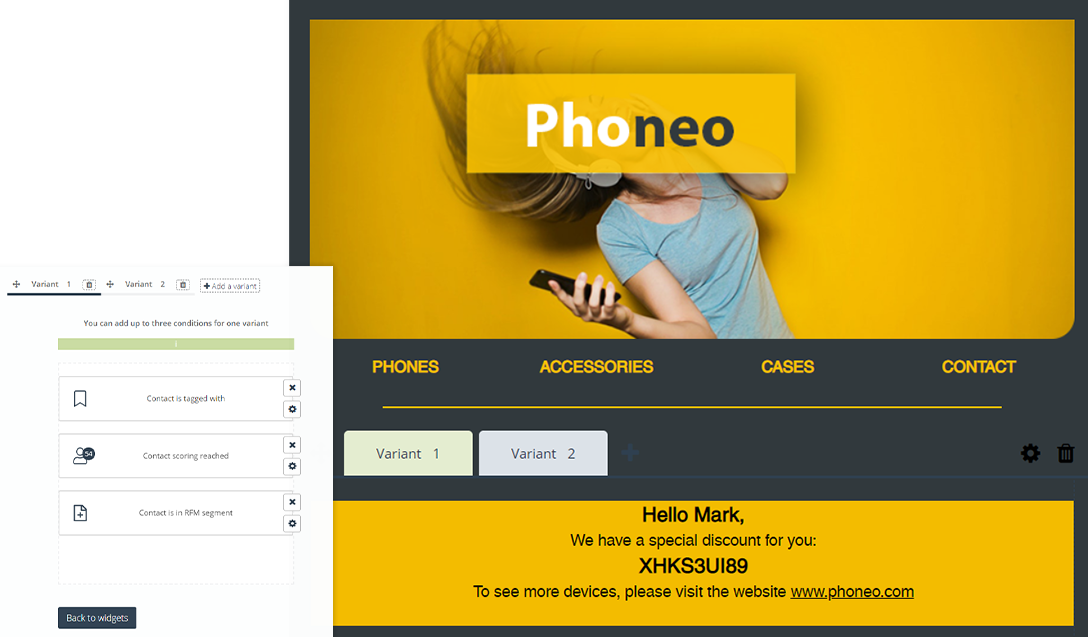 08.2020
Live Chat 2.0 step three
New feature
The new wizard allows you to create chat windows perfectly matched to your website thanks to extensive customization capabilities. Personalize the chat welcome message and automate the window display depending on the currently displayed subpage. Check and see yourself how interesting it can be to create new chat windows.
08.2020
Email Marketing Dashboard
New feature
The Email Marketing Dashboard presents detailed statistics of all your email campaigns. It gives you the opportunity to evaluate the engagement of contacts in your previous campaigns and to determine the best time to send another mailing. Measure revenues and analyze orders generated thanks to emails and newsletters sent from SALESmanago. Use database status analytics, along with a complete list of unsubscribing reasons, to better manage your campaigns and improve their effectiveness.
08.2020
Mobile Marketing 2.0 with WhatsApp and Viber
New feature
Mobile Marketing is a brand new module that allows communicating with customers via various communication channels like SMS, WhatsApp, and Viber! Analyze the effects of the campaigns based on information that is included in advanced sent text messages analytics, which you can find on the new Dashboard. Check which channels are the most effective for your ecommerce.
06.2020
Dynamic segments - tags and contact details added to dynamic segments
New feature
Dynamic segments are advanced tools to contact segmentation that allows instantly to create different groups of recipients. Nowadays, we improve dynamic segments by selecting contacts that include specific contact details or tags.
06.2020
Live Chat 2.0 step two
New feature
The next step working on Live Chat 2.0 has been fulfilled. This time we made a lot of new improvements like canned response library and chat conversation tags. The biggest change is the new view of chat conversation window, that allows e.g. for forwarding conversations to other consultants, blocking insistent users, or easy to use recommendations mechanism, which you can use in real-time. Check and see yourself how easy and pleasant can be chatting with a customer.
06.2020
Optimize working all mechanism based on contacts
Improvement
Recently, we have been focused mostly on optimize all processes that include contact management. Enjoying looking at our customers' growing base of contacts we have made every effort to let our clients fastly make any actions with their contacts.
05.2020
New version of our Copernicus Machine Learning & AI recommendations system
Improvement
We improved our Copernicus Machine Learning & AI recommendations system. Algorithms responsible for recommendation counting has been actualized and changed based on collected data. Now, using recommendations supported by Copernicus you can recommend products even better suited to the needs of its customers!
05.2020
Deep behavioural profiling on the contact card

New feature
Deep Behavioural Profiling allows you to keep track not only of the list of products viewed by the user, but also the information about all the checked by him parameters and the details displayed about the product. Based on this, common features unique to each customer are selected, allowing the offer to be tailored exactly to their preferences. Now you can track each customer's interest in the products on your website. The module on the contact card shows the most popular products and the way the customer viewed them.
05.2020
Prediction analysis - dashboard

New feature
New advanced analysis panel presenting data on churn prediction and the probability of purchase for the whole contact database. The mechanism has been supported by AI algorithms, thanks to which you can precisely determine the state of your contact database and determine the best channel of communication with your customers, which brings the greatest profits. The dashboard is enriched with a detailed Customer Lifetime Value analysis of all customers.
04.2020
Predictive Analytics on the contact card

New feature
On each contact card, an advanced analysis panel has been implemented to predict the value of customers and the revenue that can be generated through the marketing activities. The mechanism has been supported by AI algorithms allowing us to predict the probability of making purchases of every single customer, as well as their churn probability. The analysis is enriched with information on the best communication channels for each individual customer.
Learn more
04.2020
Social Proof widget wizard

New feature
An easy-to-use Social Proof wizard for eCommerce that allows you to present information on your website showing the level of interest of other visitors in each single product.
Learn more
04.2020
Mechanism dedicated to creating your own Social Proof widgets on the website

New feature
In case you want to place a Social Proof widget on your website with your own design, you can use our mechanism to show your widgets on the website. This means you don't have to use our wizard to have the social proof widget on your website. Find out what methods you need to use.
Learn more
04.2020
Simple wizard to create pop-ups with graphics (without a form)

New feature
In order to meet the requirements, we have made creating beautiful pop-ups with formless graphics as easy as possible by providing a simple pop-up creator with graphics. In addition, the wizard contains a lot of interesting options such as creating different versions of pop-ups for desktop and mobile, or a different way of displaying depending on the display location.
Learn more
04.2020
Automatic Sales Chat Bot in Live Chat

Improvement
One of the stages of Live Chat 2.0 development was to add the possibility to set up Automatic Sales Chat Bot in Live Chat on the website. Now you can, for example, recommend products to your customers automatically by displaying the products in the chat window. It's very easy to launch this feature and takes maximum 2 minutes!
04.2020
First stage of Live Chat 2.0

New feature
Our Live Chat is changing for you to improve your daily communication with your clients. The first stage includes the improvement of creating new consultants, giving additional roles for consultants, grouping of the consultants, self-creation of the consultants' groups, management panel of the consultants and their groups, panel of conducted conversations and the possibility of exporting them. We have the next 2 the best and the most interesting stages to implement ;)
04.2020
Website Automation Rule in Automation Rules and Workflow

Improvement
Customers who have an access to the Website Automation Rule module can now enrich its operation with all events and conditions that are available in the Automation Rules and Workflow. This allows you to display pop-ups for contacts from a specific segment.
Learn more
04.2020
Revenue for individual analytics

Improvement
We have enriched the analytics of each conducted campaign with information about the generated sales.
04.2020
The new design of sent message analytics

Improvement
We have refreshed the appearance of the sent e-mails' analytics to simplify the data interpretation of the conducted campaigns.
04.2020
Prediction analytics - adding selectors to choose a contact group

New feature
From now on, you can easily conduct the campaigns for contacts that are, for example, most likely to make a purchase or have a low probability of churn.
04.2020
Prediction analytics - new conditions in Automation Rules and Workflow

New feature
We added two new conditions to Automation Rules and Workflow: Churn prediction and purchase prediction. Thanks to them you can personalize your 1-to-1 campaigns, adjusted to the degree of purchase or churn probability of each single contact.
04.2020
Integration with the new SMS gateway - skebby.com

Improvement
From now on our customers are also able to send SMS messages using the skebby.com gateway.
03.2020
Optimization of the operation of SALESmanago core functionalities

Technology
In the first quarter, we have strongly focused on introducing optimization and solutions that allow our customers to use SALESmanago freely and without any limitations or problems. The optimizations were implemented across the main modules of the whole application.
03.2020
Development of product filtering in the product gallery

Improvement
We have implemented an improvement in filtering and searching for products at a price in the product gallery. Now you can easily search for the products without price, with price or in any price range.
03.2020
Monitoring parameters in shortened links in SMS messages

Improvement
While adding the links in sent SMS messages, you can apply our original link cutter, which automatically takes into account all the parameters allowing you to monitor your contacts while shortening the links.
02.2020
Adding buttons to the Web Push and Rich Web Push notifications

Improvement
We have expanded the Web Push and Rich Web Push wizard with the ability to add the buttons to notifications. Discover yourself the benefits of adding additional buttons to your notifications.
Learn more
02.2020
Optimization of the e-mail dispatch process

Technology
Every day millions of emails are being sent from the SALESmanago system. In order to provide the highest standards in the process of sending messages, we have streamlined the whole process using the most modern technologies available on the market.
01.2020
Dynamic Segments

Improvement
We have developed the Dynamic Segments by providing the possibility of giving an exact referral in sources: visits and transactions. This allows you to easily create a dynamic segment containing the contacts that made the purchase by entering your website directly from Facebook.
Learn more
01.2020
Adding SMS and Web Push to the Revenue Attribution Dashboards

Improvement
We have added the additional sources of transactions such as SMS and Web Push to the Revenue Attribution Dashboards in the detailed sections on mass, sent from the Rules and sent from the Workflow. These sources are added to aggregate analytics as well as single tiles that you can use to create your own personalized business dashboards.
Learn more
Segmentation Module
Segmentation Module is a modern tool for the easy creation of contact segments (groups) and manages the contacts database. It is an improvement of the feature to define the group of recipients and select a contact group to perform actions in SALESmanago.
New widget on website to simplify products searching in the online store using voice. It perfectly matches all queries thanks to the use of advanced NLP technology and sets of interrelated computational approaches that work together to home in on user intent.
New mechanism that allows your customers (especially those using a mobile device) to upload a picture with a look they like and the AI Visual Search Engine will automatically display the products similar or fitting the desired look and feel. Automatically display products looking similar or fitting to the products the customer is browsing through on your online store.
Web Push Notification - part 1
Totally new Web Push Notification module which contains new advanced analytical panels, the new list of web push and consent forms, and a new, easy to use wizard to create and send web push notifications and create consent forms. Possibility to create and send one web push notification with various versions of languages.
Notification Center
The Notification Center is a modern feature that allows you to display special information for your customers on the website under the bell icon. Design and create a notification center using an easy creator so that is aligned with your website's theme. Enrich your website with a product likes mechanism. In the notification center, display your customers' products which they like or viewed during the last visit. Get detailed insights into how each notification performs.
Web Push Notification - part 2
Web Push Notifications go to the A/B/X testing level. Easily test which notifications convert better and send better push based on revenue results. Analyze how consent forms perform and testing various options to acquire more recipients. Send mass dynamic web push notifications to anonymous and identified users using the new wizard: dynamic web push notifications.
Preferences Center
Get to know your customers' preferences better and use it to run a more efficient marketing strategy and reach your intended marketing goals. Stay up to date with what products your customers like or don't like and based on this knowledge you can recommend products perfectly matched to customer's needs.
New Drag & Drop Email Designer
New Drag & Drop Email Designer which will be extended by the possibility of creating one message template with mobile and desktop view customization. Full set of advanced tools to create beautiful email in one place.
AI A/B/X Testing Center & Website Optimization

Ai
A/B/X Testing center will be a new feature thanks to this you will have the possibility to test every action on your website. Optimize your activities and choose which element performs best. Ensure the best customer experience on your website and increase revenue based on good and thoughtful actions.
New Landing Page Designer
Totally new drag & drop wizard, that allows you to create beautiful and full personalized Landing Pages. Full package of advanced options in the easy-to-use wizard. Create a Landing Page in SALESmanago using your own domain and still track the behavior of your contacts on this page.
AI Buyer Persona Analysis

Ai
Use all collected data about your contacts in the database and calculate your 'buyer persona' automatically. Get to know your customer's profile and adjust your marketing activities matched to your customers.
Weekly & Monthly Reports
New weekly and monthly reports take the form of a summary of the activities on the SALESmanago platform. Thanks to their clarity you will quickly verify the results that you achieve within a given module in the system.
Customer Engagement Center
New module in SALESmanago where you can find all necessary information about the way you can improve your marketing strategy and helps you to make a decision what action to take. Full sets of tips & tricks, insights, and a checklist with the most important issues to do.
New Menu with Multiple Account Management
The new menu makes navigation in SALESmanago easier. Personalize the menu on your account to better and easier get access to your most popular features in the application. Match its look to your preferences. New features to multiple account management allow you to use more than one account easily and quickly.
Lead Generation Dashboard
Analyze the growth of your contacts' database and how your all forms perform. Get access to all information about the best source of contact acquisition. Compare thanks to which forms you acquire the most valuable contacts.
AI Recommendation Analysis

Ai
Advanced analysis of recommendation mechanisms performance based on revenue. Measure the effectiveness of each mechanism, test them and choose the best recommendation scenario ideally matched to your business.
New Design of Automation Rules
The new appearance of automation rules with predefined marketing campaigns scenarios.
Comparison Product Data with CDP data

Ai
Analyze which products are the most popular and liked by your customers. Thanks to the new analysis, predict which products will be sold shortly. Compare your customer profiles with products which they buy and based on this recommend the best products and match the offer in your store.
New Sales Funnels View
The new appearance of sales funnels, which will simplify navigating and using the primary contacts' segmentation.
Vision of SALESmanago
eCommerce Intelligence
Intelligent recommendations of the marketing actions for the marketers enriched by AI. Expanded hints and solution's suggestion software, which is worth implementing, to achieve better sales results and to improve the value of every single client. Automatically generated processes scenarios, considering the omnichannel communication engine, to reach out to your clients, when they are ready to finalize a purchase.
Marketing Investment Management
Deep analysis of conducted marketing expenses and intelligent ROI counting. Advanced engines, allowing optimization of conducted campaigns to be focused on actions generating the greatest revenues, requiring a relatively low amount of time and work costs.
eCommerce Command Center
An advanced insight and monitoring of all the processes taking place in an online shop in real-time. Allowing ongoing monitoring of your clients' activities and all the marketing and sales actions in your shop, and also optimize conducting campaigns in real-time. Enriching communication with the clients by implying an automatic assistant, who supports them during the entire sales process.
200 employees support 2000+ midsize and enterprise customers worldwide
Thank you for your subscription.
An error occurred. Please check required fields and try again