Customer Data Platform
Build 360° customer profiles in a unified and persistent customer database with data collected from multiple sources and touchpoints. Manage structured and unstructured data with a single customer identifier. Execute hyper personalized omnichannel communication perfectly fitting customer preferences and behavior.
Use a single customer view to display all zero-, first-, and third-party customer data collected across all acquisition channels.
Predict the customer behavior and preferences and use insights and recommendations delivered by the platform to create a next-level Customer Experience.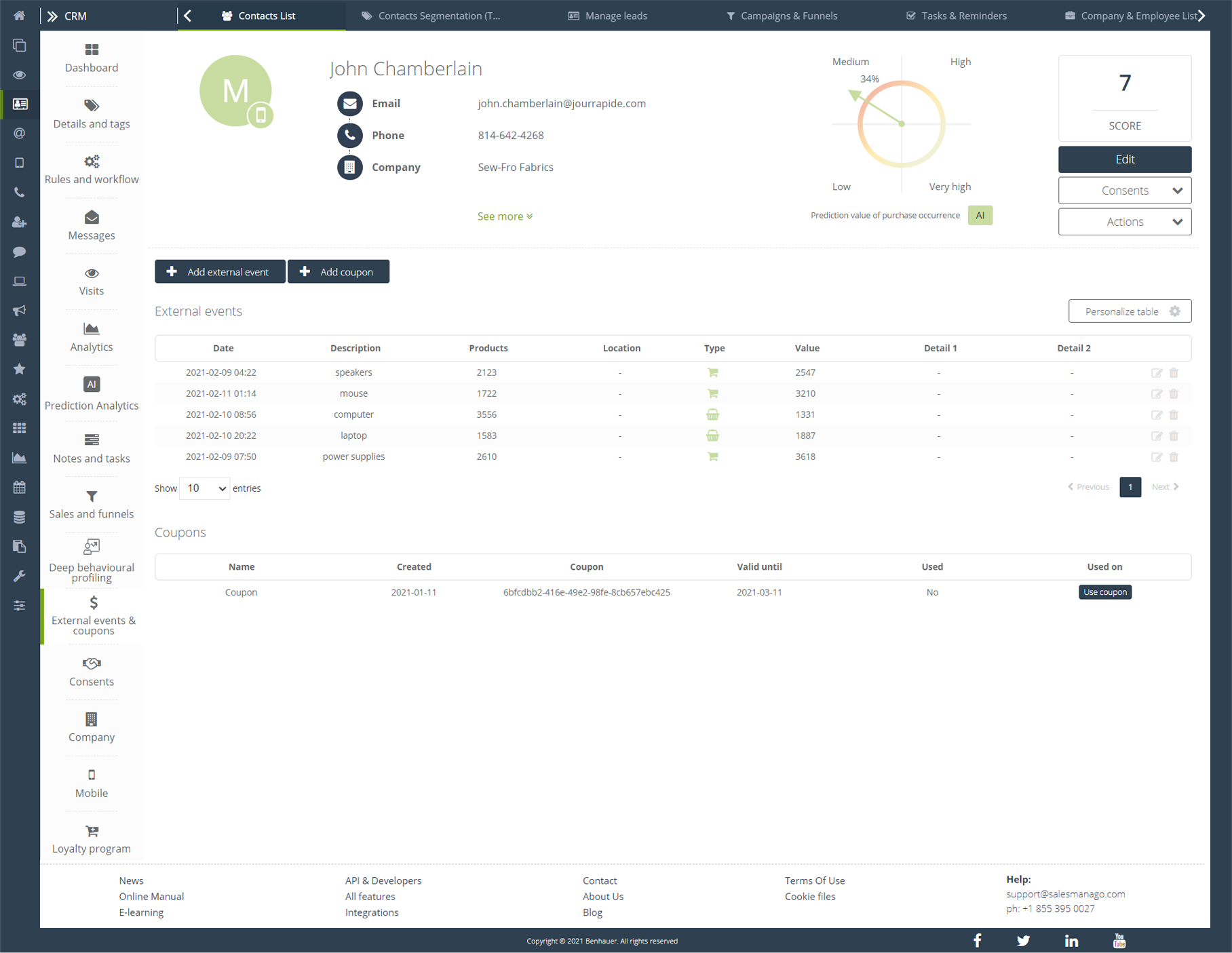 Translate knowledge about your customers into hyper personalized marketing campaigns and processes.
360-degree Customer Profile
Harness the power of zero-, first- and third-party data to create a single customer view to truly understand their needs
Unified database
Integrate structured and unstructured data collected from multiple sources in a unified and persistent customer database with a single customer identifier
Actionable data
Make the right decisions and improve your marketing processes in the company, based on the collected data
Packaged System
Use a set of ready-to-use features, in a marketer-managed system, that allows using customer data to communicate, segment, and upgrade their Customer Journey
AI Predictive Analytics
Find optimum next move with a client to satisfy its needs, increase engagement and its lifetime value by predicting the chance to buy or risk of churn
AI-driven offer personalization
Analyze behavioral and transactional activity patterns of your customers and deliver 1-to-1 and AI product recommendations for cross-selling and upselling
53%
According to 53% of marketing executives, their CDPs can be helpful to engage and understand existing customers' needs to increase the probability of clients turn to repeat and loyal customers
73%
73% of marketers believe a Customer Data Platform will be critical to their Customer Experience efforts
44%
44% of organizations found CDP helping in driving customer loyalty
90%
Even 90% of customers are willing to share behavioral data if they can get additional benefits to make the shopping cycle cheaper or easier
60%
In the last years, the overall volume of events that customers have tracked through Customer Data Platform increased by 60%
Unlimited data ingestion capabilities
Interests and preferences
Reactions to outbound communication
Favourite communication channels
Take advantage of channel & time optimization to deliver marketing content perfectly

Thanks to send-time optimization, deliver personalized and timely messages with channels tailored to client's preferences.

Use product recommendations to improve Customer Experience and increase sales

Fine-tune Customer Experience through their entire lifecycle by using various product recommendation models tailored to their in-depth needs.

Analyze Consumer Behavior to personalize communication

Manage the marketing activities, with a wide range of data and information about your customers you are able to measure and analyze customers' behavior.

Use AI to predict customer actions

Transform collected data into future predictions. Predictive analytics can help your organization forecast future outcomes based on historical data, analytics techniques, and AI Predictive Analytics.

Provide Omnichannel Customer Experience

Use insights derived from customers' actions to deliver omnichannel experience.

Segment your customers to enhance your campaign results

Provide behavioral segmentation in your marketing strategy, stay customer-centric and focus not only on who your customers are but on what they do.

Provide A/B testing to find the best way to convert

Perform A/B testing across all digital channels, optimize each unique user's customer journey, compare them and see which variant drives more conversions.

Make right decisions with actionable data

Based on collected data, easily make the right decisions and optimize your campaigns to achieve the best results.
Persistent customer profiles

Cross-channel personalization