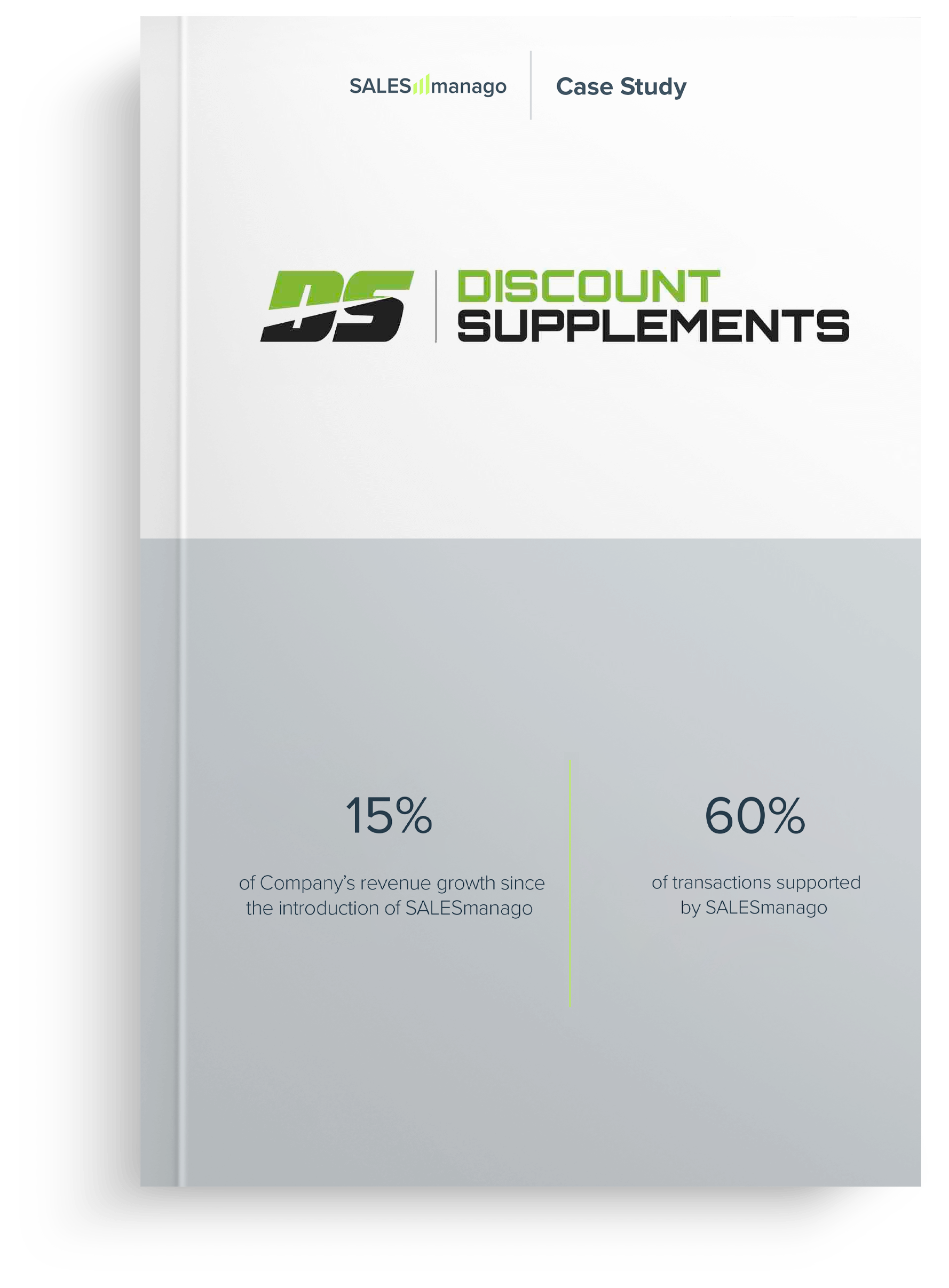 Case Study
Discover the success
story of Discount Supplements
achieved with SALESmanago
DOWNLOAD CASE STUDY
15%
of Company's revenue growth since the introduction of SALESmanago
60%
of transactions supported by SALESmanago
"I was very excited when we first did a demo and walkthrough with the account executive and systems specialists back in Autumn 2022 and we decided to plan to migrate from another marketing automation platform to SALESmanago in Q4. The SALESmanago team worked tirelessly with our team in a 14-day window to assist in the successful migration and provided continuity in our marketing options. We've since grown to use the advanced features of the CDP part of the platform, which was new for us, and now we enjoy looking at our outbound revenue reports on a weekly basis."
"At first, we were heavily reliant on just email marketing and outbound CPC marketing for new customer acquisition, but when we moved to SALESmanago, we developed a stronger marketing plan based on advanced segmentation and targeting, App messaging and affordable outbound SMS marketing. This system has changed the game for us and we are delighted to be ready for future internet marketing with a complete customer data platform."
About
Discount Supplements is Ireland's leading supplier of Body Building Supplements, Fitness Supplements & Sports Nutrition operating since 2006.
Challenges
In 2022, Discount Supplements faced a multitude of challenges that demanded a transformation in their online business strategies, starting with the state of their customer database. The lack of segmentation hindered their ability to tailor marketing efforts effectively, resulting in suboptimal outcomes for their newsletters, which, as reported, had a low impact.
Furthermore, the company was using a diverse array of marketing tools, creating a complex and impractical landscape for its operations. Their desire to expand and collaborate with new e-stores highlighted the pressing need for a central point of management for marketing-oriented data. The absence of such a central hub hindered their growth potential and created inefficiencies in their marketing operations.
Recognizing these challenges and the need for a comprehensive solution, Discount Supplements embarked on a transformation journey with SALESmanago. This transition allowed them to address these pain points, significantly improve their marketing strategies, and position themselves for success in an ever- evolving eCommerce landscape.
Effects
11%
of CTR increase in mass emails
15%
of Company's revenue growth since the introduction of SALESmanago
21%
of OR increase in mass emails
35%
of transactions in last 30 days were supported by SALESmanago including 45% last click.
60%
For total transactions in the current quarter, 60 % was supported by SALESmanago (last click - 48%)
Are these statistics possible to measure and increase using SALESmanago?