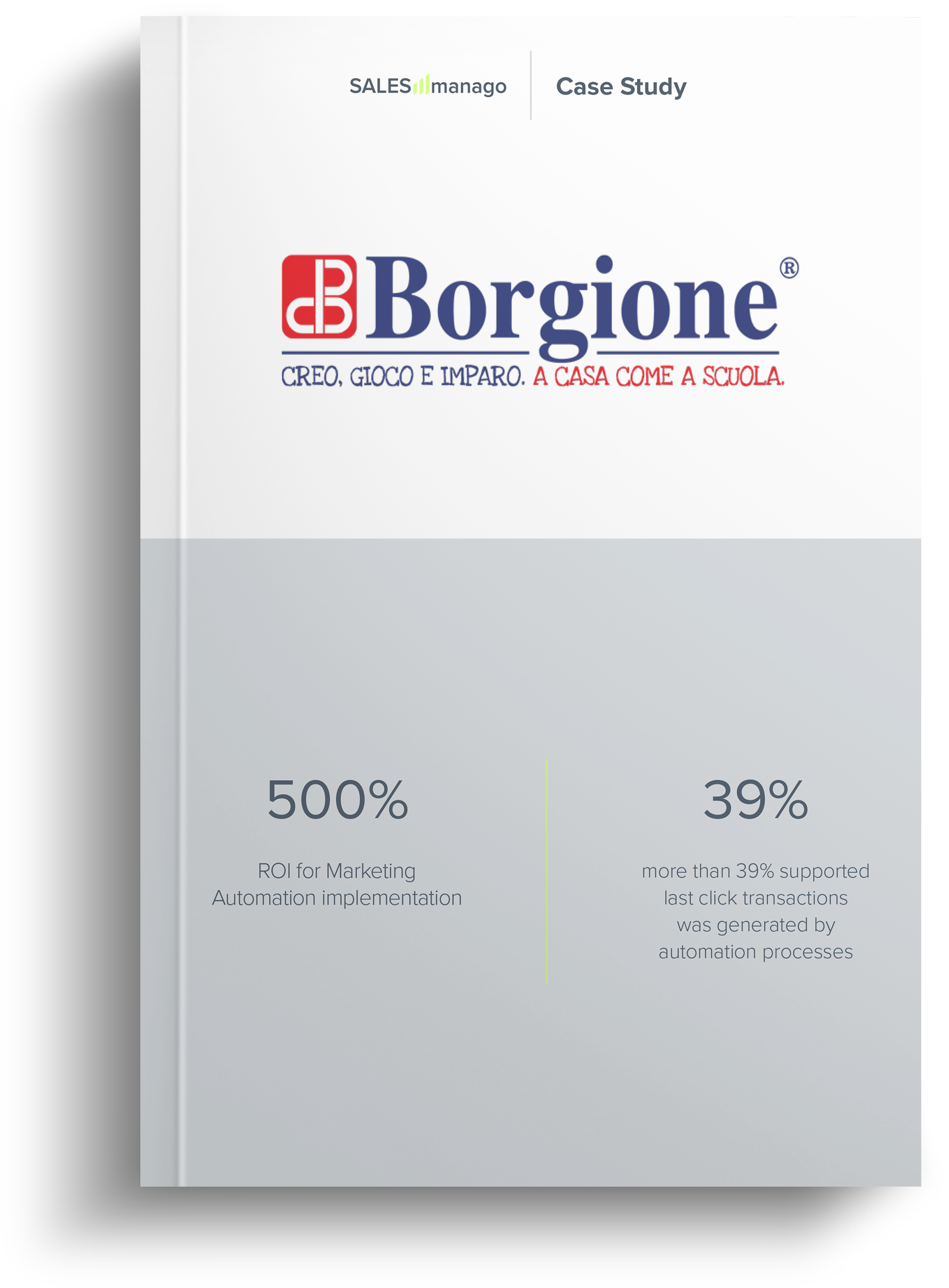 Case Study
Discover the success
story of Borgione
achieved with SALESmanago
DOWNLOAD CASE STUDY
500%
ROI for Marketing
Automation implementation
39%
More than 39% supported
last click transactions
was generated by
automation processes
With SALESmanago we were finally able to have all of our ecommerce data on one platform and be able to use it in real time with automated flows. This has allowed us to offer all customers a customized experience while minimizing the manual effort by my department. The constant conversation with a SALESmanago PM also allows us to add updates each time and enrich our user's customer experience.
About
Borgione srl is a company with a 50 years tradition of providing educational materials for creative workshops, toys, furnishings for whole families, schools, and private teachers. The mission of Borgione is to stimulate the skills and emotions of children, helping them to pass their childhood happily and to grow up as people ready to create a sustainable future. Borgione does its best to inspire parents, educators, teachers with the products they offer to realize this mission.
Challenges
Communication attractive for recipients and personalized content, in the most suitable moment for users
Customer Churn Rate minimisation and Customer lifetime value improvement
Increase average cart value
Effects
500%
ROI for Marketing
Automation implementation
39%
More than 39% supported last click transactions was generated by automation processes
353%
increase in CTR and 66%
increase in OR in automatic
e-mails to compare with
the mass e-mails
31%
of transactions supported by SALESmanago and 5,5% supported last click transactions
75%
CTR of promotional emails increased by 75%, a CTR by 20%
8%
Sales increased by 8% in three months and 6,5% in less than one year
300 employees support 3000+ midsize and enterprise customers worldwide
For those who use Marketo, Hubspot or Pardot, SALESmanago is powerful, feature rich inbound marketing automation platform, very affordable with excellent support.
SALESmanago account management is extremely efficient and well organized. We are happy customers with both our account and the solution.
Support is really great in problem solving. SALESmanago is up-to-date in innovations and is capable to adjust for unique needs also.
Thanks to CRM we gained deeper insight into customer behavior and we understood their needs. SALESmanago contributes to boost in our sales in online shopping.
Marketing Automation solutions provided by SALESmanago is time-saving. Personalisation of offers gives a customer an impression that the offer is specially chosen for him by a specialist.
Thanks to the SALESmanago system I have managed to implement solutions that help me come closer to my customers in real real-time and thus generating more sales.